Cowslip's Warren
After making it across Newtown Common, the rabbits enter a sunny meadow and their spirits lift. They play for a while along the line of the brook (point 3), and dig some scrapes in the not terribly serious fashion of bucks. After a while, it becomes clear that rain is approaching, and at this point Cowslip appears. His warren is on the other side of High Wood, at point 4.
After escaping from the warren, the rabbits set off southwards, and pass through some deep woods, where we are told that Strawberry makes himself useful - it seems very likely that Frith Copse is among these.
---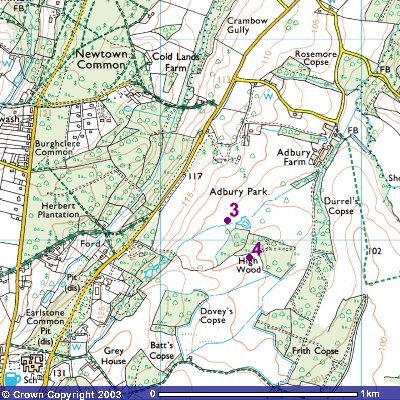 Image produced from the Ordnance Survey Get-a-map service.
Image reproduced with kind permission of Ordnance Survey and Ordnance Survey of Northern Ireland.
---