Sandleford
This, of course, is where the story opens, and to this day the area of the Sandleford warren is thankfully still free of urban development (you can see the very edge of Newbury town to the extreme NW of the map). Point 1 marks the precise location of the "dry slope ... dotted with rabbits" where is located the actual warren. Slightly to the east is the brook over which the culvert crosses, and along the course of which the rabbits flee after their initial encounter with Holly.

Pont 2 is where the rabbits cross the River Enborne on their makeshift raft. After resting in the beanfield, it would seem that they then turn roughly eastward, crossing what was then (before the building of the Newbury Bypass) the A34 (coloured red), and coming across the dead yona. They go through Newtown churchyard - the scene of the fight with the rats in the Nepenthe film - and then (perhaps because of the small road close by to its east?) turn south again, towards Newtown Common, where Hazel's leadership comes under fire from Hawkbit.
---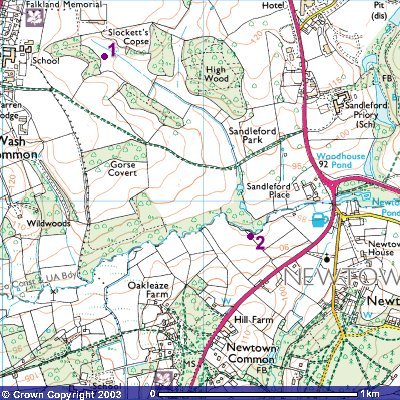 Image produced from the Ordnance Survey Get-a-map service.
Image reproduced with kind permission of Ordnance Survey and Ordnance Survey of Northern Ireland.
---