Watership Down
The journey from Cowslip's Warren to Watership Down itself is rather skimmed over in the book, but it seems at least reasonable to assume that the lake at the very NW of the map (point 5) is the one where the rabbits saw the "great, grey fisher-bird that paddled and stabbed in the sedge". They would then have made their way south-eastwards across open pasture, and (though we are not told this) must have crossed two roads before passing beneath the pylon line, perhaps at somewhere around point 6 - the "iron tree" is also of importance, of course, right at the end of the story when Hazel, Blackberry and Dandelion are leading the farm dog onto the Efrafans.
After they have climbed the Down for the first time, Hawkbit discovers the abandoned holes in the thorn-tree thicket a little way below the summit (point 7). These are unsatisfactory, and so before long the true Watership warren is founded at the NE corner of the beech hanger. Point 8 marks the Honeycomb and where the great beech once stood - sadly the real one was felled a few years ago.
I'm not entirely certain of the exact location of the ditch at the foot of the Down where Holly and Bluebell appear, but I'd imagine that it would be fairly close to point 9.
---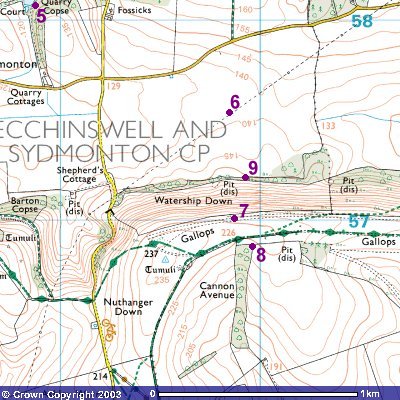 Image produced from the Ordnance Survey Get-a-map service.
Image reproduced with kind permission of Ordnance Survey and Ordnance Survey of Northern Ireland.
---
Copyright © David "Loganberry" Buttery 2003-4. Last updated 06/05/04.