---
Part Three - The Lane from Nuthanger Farm
The sight of Nuthanger, so like I'd always imagined it and so similar to its appearance in the film, had really put a spring in my step. I was now about to cover some of the ground on which some of the most dramatic events in Watership Down occurred. Firstly, somewhere near the location pictured below would have been the earthenware drain into which Hazel crawled after being shot. I had a fairly good look, but couldn't find anything suitable - and in fact, there are barely any ditches along the sides of the track these days.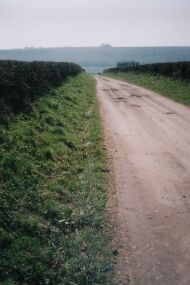 As with the earlier path, there were plenty of rabbit holes in the verges, but I confess to having my mind on other things at this point, most notably just how far away the beech hanger seemed - you can see it on the horizon, and looking at the map the distance is around a mile. The part of the lane pictured here is quite near Nuthanger, and would have been Dandelion's responsibility in the final luring of the farm dog up the Down.
A little further on was a puzzle. Chris Boyce tells us that the vegetable sheds, where Hazel and Pipkin nosed around in "Nuthanger Farm," and whence the ill-fated main expedition was launched in "The Raid," burnt down years ago and were ploughed into the field; and that no trace remains thereof. That being so, I was a little surprised to see, at about this location on the western side of the lane, the remnants of a building.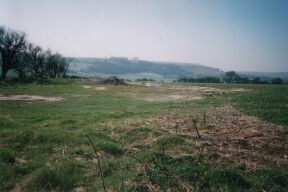 I wandered into the field (there was a big gap in the hedge, as though vehicular access had once been needed) to have a closer look, and found the clear brick outlines of a smallish rectangular building, plus what looked like concrete foundations. The ground also gave the impression of having been charred at some point in the past, which given the fiery fate of the sheds is all the more interesting. If anyone has a clue what this building was, then do please let me know. =:)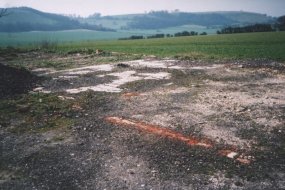 Beyond this point, the lane continued more or less southwards, but now on a quite significant downward gradient as I approached the road at the bottom - the same road, in fact, that I had passed the junction of on the outskirts of Kingsclere. This was another "hallelujah moment" for me, as I would defy any WD fan not to recognise at once the significance of the photo below. That's right: the pylon is the famous Iron Tree, best known for its eerie appearance in the film's Bright Eyes sequence. The line of trees about halfway up the picture marks where the injured Hazel rested after being saved by Fiver's vision.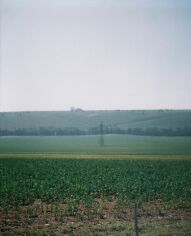 The rabbits went pretty much directly up the hill from here, but there's no footpath up there, and as I was keeping to Rights of Way, I turned right along the Sydmonton road and made for the crossroads that come up in about half a mile. There were fine views of Watership Down on my left all the way, and I saw a couple more buzzards. After an easy walk, I arrived at the crossroads, and couldn't help smiling at all the WD-related place names on the signpost. (In case you're wondering, the bit you can't see points to Sydmonton and Old Burghclere.)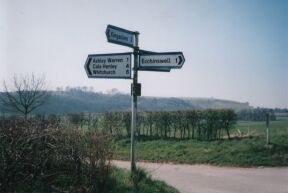 I am looking south-west here, and the hill you can see in the middle distance is Hare Warren Down, just to the west of Watership. Turning left at this crossroads was an important milestone on my journey, however, for now I was beginning my climb of Watership Down itself! =:)
---